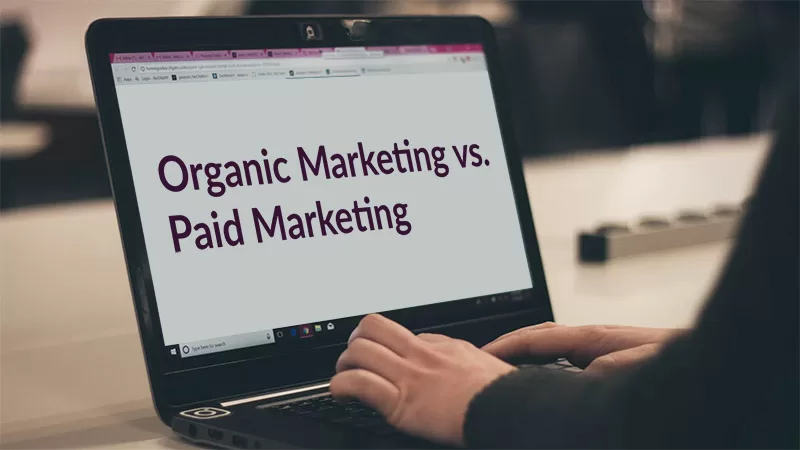 If you're curious about Organic Marketing vs. Paid Marketing and developing the best plan of action for your marketing strategy, keep reading to learn more about organic and paid marketing, the differences between the two, and how your business can benefit from both organic and paid strategies.
Organic Marketing
Organic marketing is a type of marketing that is very cost-effective because there is little to no cost required. This type of marketing includes your unpaid efforts such as search engine optimization, blogging, social media marketing, video marketing, and email marketing.
Since organic marketing focuses on establishing your business as a trustworthy brand within your industry and building relationships with your audience, this type of marketing is long-term and requires time and effort before you start to see results. 
1. Blog Posts
Blogging is fundamental when it comes to your organic growth. It allows you to share your industry expertise and product or service updates, educate your audience on specific topics related to your business, and discuss other trending topics within your industry.
Publishing consistent blog content is essential for your visibility and website traffic because it gives you more opportunities to show up in search results, increasing your chances of being seen and more people clicking on your website.
To give your audience the most value and improve your search rankings, you'll want to ensure you're publishing content relevant to your business and topics your audience is interested in reading or learning about.
2. Search Engine Optimization
Search engine optimization or SEO is the process of optimizing your website to increase its visibility on search engines. Over time, this will increase your website traffic by directing new and potential customers to your business.
There are multiple ways to optimize your website for visibility, but the main ones are: 
Relevant content

Speed

Mobile-friendly

SSL Certificate
SEO isn't just for boosting your organic rankings, though. Optimizing your website improves your overall user experience, contributing to conversions.
3. Social Media
Social media is a powerful tool for organic marketing because it allows you to share your story, increase brand awareness, and connect with your audience through text, image, and video-based posts. Social media is also a great way to expand your reach locally or globally.
To get the most out of social media marketing, you'll want to ensure you're posting relevant and engaging content consistently. But first, you'll want to choose the right platforms for your business. Because each social platform works better for specific types of businesses, it's essential to pick the ones that align with your goals.
Paid Marketing
Paid marketing, also called digital advertising, includes all your paid marketing efforts, such as Google and social media ads. Digital advertising provides quick results for your business at a relatively low cost. It also helps you expand your reach, increase brand awareness, and improve your SEO within a set period of time.
Another benefit of digital advertising is that you can make adjustments mid-campaign to achieve optimal results.
1. Google Ads
Google Ads is a digital advertising platform that allows you to target users when they are searching for products or services you offer. These ads are a type of PPC ad that is displayed at the top, bottom, middle, or side of the first page of the search results or on Google Search Partners' websites.
These ads along with SEO can potentially give you two listings on the first page of the SERPs, which increases your brand awareness, website traffic, and conversion rate.
2. Social Media Ads
Social media ads are ads that are displayed on social media platforms such as Facebook, Instagram, or TikTok. 
With social media ads, you are able to target specific demographics using audience segmentation tools when you are setting up the ads. By targeting groups of people who are more likely to purchase the products or services you have to offer, you are able to drive quality traffic to your site, increase your conversions, and expand your reach. These ads also contribute to your organic social media efforts by boosting your engagement and page followers.
3. Ad Retargeting
Retargeting is designed to reach people who have visited your site before or are already in your lead database. There are two main ways that these types of ads work. 
You can target website visitors after they leave your site by having ads specific to products or services they looked at on your site shown to them while they are surfing the web. This is also referred to as pixel retargeting. 
Alternatively, if you already have an email address for a potential customer, you can use this to create a list and then serve retargeted ads to the people on the list. This typically occurs on social media and is referred to as list-based retargeting.
While ad retargeting might not be a term you are familiar with or something that is currently part of your paid marketing strategy, it is definitely something for you to consider as another way you can turn more website visitors or leads into customers.
Need help with Organic Marketing or Paid Marketing?
Organic and paid marketing can work separately, but you will see better results for both if you utilize them together in your digital marketing strategy. 
Whether you're lost when it comes to SEO or your PPC ads are underperforming, we will create a marketing strategy that works for your business. Contact our team today to discuss your specific business needs.
---
Feel free to share our post among your friends and family!
---