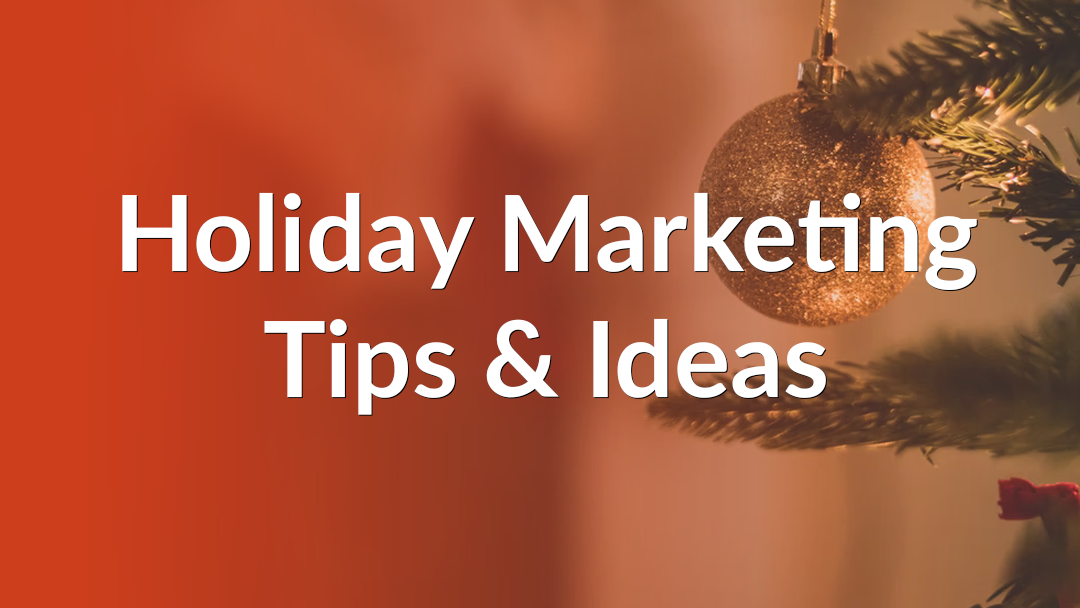 With holiday spending steadily increasing year over year, this is an important time of year for your business revenue. It's also the perfect opportunity to get creative with your marketing campaigns to catch the eye of potential customers, maximize engagement, and increase your sales. 
The holiday hype typically starts at the beginning of November and keeps escalating until New Year's Day. Google Trends data also shows the popularity of people looking for gifts online has increased year over year.
If you're a small business owner or manager struggling with your holiday marketing efforts, our team has you covered with these tips to maximize your sales throughout the holiday season. Keep reading to learn more about what your holiday marketing strategy might be missing or how to put your plan into action.
Ensure Your Business Information Is Accurate
Before heading into one of the busiest shopping seasons of the year, you'll want to check your website, social media pages, Google My Business page, and any other relevant business listings to ensure all of your information is accurate. 
A few critical things to double-check are store hours, contact information, and location. Other essential questions and answers to include are whether you offer in-store or curbside pick-up and if you offer gift cards/certificates.

Engage With Your Customers On Social Media
Since online shopping is increasingly popular, engaging with your customers and clients through social media platforms is crucial. These outlets have little to no upfront cost and are relatively easy to execute in a short time. Platforms include – but are not limited to – Facebook, Instagram, TikTok, Twitter, and LinkedIn.
Social media is a great way to keep your customers and clients updated on all your latest business news during the holiday season. Whether you want to inform your audience of your store hours, in-store or online promotions, and new or popular products or services, you should utilize social media to share all of this information. 
Whether you post multiple times a day or a few times a week, it's important to keep your posting schedule consistent for your brand to stay top of mind and keep your audience engaged while doing their shopping this year.

Promote Your Products and Services
Using organic outlets such as your website, social media, or email marketing to promote products and services you offer is a great way to get started. Still, you should think about launching social media ads or pay-per-click (PPC) campaigns to reach a broader audience. 
Google Adwords PPC Campaign
Launching a PPC ad campaign is a great way to reach more potential customers, even on a limited budget. So one of the easiest ways to get your products in front of potential customers is through a Google Ad campaign. Though your expenses can increase during the holidays, the increased sales potential makes it worth considering.
Google Ad campaigns are beneficial throughout the year as advertisers only pay when their ad is clicked, so these campaigns are designed to deliver quick results within a set amount of time.
Social Media Ad Campaign 
Creating a social media ad campaign is another way to reach more customers in a short amount of time. These campaigns are designed to target specific, local demographics and quickly increase brand awareness and boost sales. Social media campaigns are compelling because they reach local customers and encourage them to buy your products and services. 

Utilize Email Marketing
Whether you have been utilizing email marketing year-round or you are just now getting started, it's time to start creating a list of subscribers. Email marketing is at its most powerful when you're offering promotions or discounts. 
Creating festive content that you're delivering directly to the Inbox of people who are already interested in your products or services is more powerful than most other forms of marketing, especially when they're receiving a discount.
To make your campaigns more effective and call attention to the holiday promotions you're offering, we suggest creating a coupon code specifically for the holidays. For example, if you're offering 10% off for Christmas, the coupon code could be CHRISTMAS10. Coupon codes imply they are for a limited time and entice customers to act quickly to receive the discount. These codes can also be used for reporting purposes to determine how effective your promotion was.
If you're new to email marketing, we recommend using software such as Mailchimp or Convertkit. 

Create a Holiday Webpage
Creating a page on your website containing all of your holiday products, services, promotions, and discounts helps increase your conversion rate because everything is located on one page, which improves your user experience. This page would also be your central hub for your holiday marketing campaigns.
Don't be afraid to get creative with this page using Hanukkah or Kwanzaa imagery or update your website style to match the traditional red and green colors for Christmas.
You can also use this page to capture more email addresses for future campaigns by offering different or additional promotions to those already on the page.
Ready to Get Started? 
These aren't the only ways to increase your sales this season, but they are a good starting point to deliver quick results. If you're still feeling lost or overwhelmed, or you want to get a jump on your strategy for next year, contact our team of marketing experts to discuss how we can help you reach your sales goals.
---
Feel free to share our post among your friends and family!
---